My Vision for a 21st Century Lt. Governor's Office
I'm not running to occupy an office. I am running to make a difference in the lives of individuals and families across the Commonwealth.

I am running so that our families, our friends and our neighbors will have access to what I call the Massachusetts Promise – economic and social justice through:

* A job that pays a livable wage.
* A practical, high quality education.
* Safe neighborhoods for our families to grow and thrive.
The Massachusetts Promise means empowering our citizens to overcome the difficulties created by a tough economy and slow job growth.
The Massachusetts Promise means building a community where our children can attend the best schools in the world, where our friends and neighbors can live in cities and towns that have the resources to tackle modern challenges, and where individuals can find meaningful employment that sufficiently supports them and their families.
To achieve the Massachusetts Promise we must invest in our education system, our infrastructure and our communities. We must provide support to the 351 cities and towns in Massachusetts that are dealing directly with the challenges of the 21st century—climate change, job creation, education and more— and to do that our state has to generate sufficient revenues.
Our options are not simply raising taxes or reducing investments. We have the opportunity to increase revenues by increasing the economic pie—increasing the number of businesses that we attract and launch, increasing the jobs they provide and increasing the incomes of hard workers who help businesses succeed.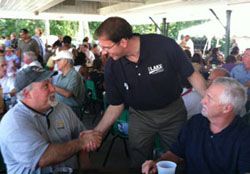 For Massachusetts to effectively compete for businesses, we must create an ecosystem that attracts and retains employees and employers. Our next administration will need a point person that can cooperate and bring value to our local leaders to strengthen their communities. We need a Lt. Governor that can promote our Commonwealth outside of Massachusetts and help those businesses that seek to bring investment and jobs to our communities by serving as their point person in state government.
I believe that our next Lt. Governor has to be both a leader for cities and towns, and a spokesperson and champion to the rest of the world.
As a partner to cities around the world, I know that some of the greatest challenges of the 21st century will be solved at the local level from climate change and transportation to improving education and supporting startups and small businesses.
My vision for a 21st Century Lt. Governor's office is to serve as the point person in the administration for cities and towns, allowing them to have direct access to state government, to work with our next Governor to identify areas of investment and to find the resources necessary to put solutions into action. I will work with our municipal leaders to make sure each community has a role in our statewide economic development strategy. I will also continue the efforts started by Governor Deval Patrick and Lt. Governor Tim Murray to identify and eliminate needless regulations, making it easier for new businesses to locate, stay or start in Massachusetts.
My vision for a 21st Century Lt. Governor's office is to be the point person for out-of-state or international businesses interested in bringing new jobs, economic opportunity and investment to Massachusetts. I will serve to champion Massachusetts as the best place in America for businesses to locate an office or headquarters.
As President and CEO of Leading Cities, I currently work with city leaders from around the United States and the world to solve the challenges that communities face. On behalf of our Commonwealth and Governor Patrick, I was instrumental in promoting Massachusetts as a gateway for international businesses through a cooperation agreement signed by the Governor and President Mas of Catalonia, Spain. We built upon this success with a partnership agreement between MassPort and the Port Authority of Lisbon, Portugal, and are currently developing opportunities with the Republic of Ireland to create more jobs in Massachusetts. These partnerships reinforce Massachusetts' leadership and future in life sciences, manufacturing, high tech and the broader innovation economy–all areas that will create new jobs for our citizens.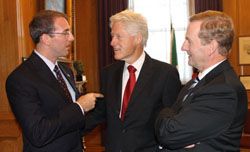 I have the proven experience to bring jobs and investment to Massachusetts. Massachusetts is operating in a global economy and we must be competitive in that global arena.